Description
Combine the OAT, GPL-Tox, MycoTox and Glyphosate Tests and save!!
About the Organic Acid Test (OAT)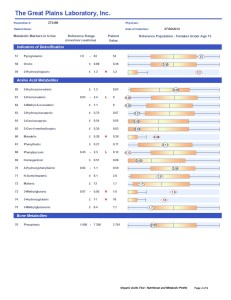 The Organic Acid Test is a comprehensive assessment for a wide variety of biomarkers related to yeast (candida) and bacteria toxicity – specifically clostridia bacteria. It also evaluates oxalate toxicity, as well as mitochondria function, and various markers for vitamin and neurotransmitter problems. The Organic Acid Test includes a section for amino acid metabolites which can detect inborn errors of metabolism. Overall, the Organic Acid Test is a foundational test that should be considered for anyone dealing with a chronic health problem. Doctors often use this test for people with autism, mental health problems, fatigue, autoimmune disorders, cancer, poor sleep, etc.
About the GPL-Tox Test
The GPL-TOX screen is a toxic non-metal chemical profile that screens for the presence of 172 different toxic chemicals including organophosphate pesticides, phthalates, benzene, xylene, vinyl chloride, pyrethroid insecticides, acrylamide, perchlorate, diphenyl phosphate, ethylene oxide, acrylonitrile, and more. This profile also includes Tiglyglycine (TG), a marker for mitochondrial disorders resulting from mutations of mitochondrial DNA. These mutations can be caused by exposure to toxic chemicals, infections, inflammation, and nutritional deficiencies.
ADVANTAGES OF THE GPL-TOX PROFILE
-GPL-TOX screens for 172 different environmental pollutants using 18 different metabolites, all from a single urine sample.
-Uses the power of advanced mass spectrometry (MS/MS), which is necessary to detect lower levels of certain genetic, mitochondrial, and toxic chemical markers that conventional mass spectrometry often misses.
-GPL-TOX also includes Tiglylglycine, a marker for mitochondrial damage, which is often seen in chronic toxic chemical exposure.
-GPL-TOX pairs perfectly with the Organic Acids Test (OAT) and the Glyphosate Test in the Enviro-TOX Panel. This panel offers you comprehensive testing to assess exposure to common environmental toxins and the damage that can be caused by this exposure and all from one urine sample.
About Glyphosate Testing: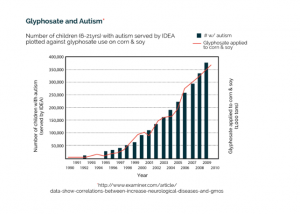 Glyphosate is the world's most widely produced herbicide, used in more than 700 different products from agriculture and forestry to home use. Glyphosate was introduced in the 1970s to kill weeds by targeting the enzymes that produce the amino acids tyrosine, tryptophan, and phenylalanine. Usage of glyphosate has since amplified, after the introduction of genetically modified (GMO) glyphosate-resistant crops that can grow well in the presence of this chemical in soil.
Recent studies have discovered glyphosate exposure to be a cause of many chronic health problems. It can enter the body by direct absorption through the skin, by eating foods treated with glyphosate, or by drinking water contaminated with glyphosate. Possible cancers linked to glyphosate exposure include non-Hodgkin lymphoma, renal tubule carcinoma, pancreatic islet-cell adenoma, and skin tumors. Studies have also indicated that glyphosate exposure can cause decrease in the ratio of beneficial to harmful bacteria, as well as diseases like metabolic disorder, diabetes, depression, autism, cardiovascular disease, and autoimmune disease.
High correlations exist between glyphosate usage and numerous chronic illnesses, including autism. Other disease incidences with high correlations include hypertension, stroke, diabetes , obesity, lipoprotein metabolism disorder , Alzheimer's, senile dementia, Parkinson's, multiple sclerosis, inflammatory bowel disease, intestinal infections, end stage renal disease, acute kidney failure, cancers of the thyroid, liver, bladder, pancreas, kidney, and myeloid leukemia. Correlations are not causations, yet they raise concern over the use of a chemical to which all life on earth appears to be exposed.
About the MycoTox Profile
The MycoTox Profile evaluates for 11 common toxins from mold: Aflatoxin M1, Ochratoxin A, Sterigmatocystin, Roridin E, Verrucarin A, Enniatin B1, Zearalenone, Gliotoxin, Mycophenolic Acid, Dihydrocitrinone, and Chaetoglobosin A. The species of molds which produce these toxins include Aspergillus, Penicillum, Stachybotrys and Fusarium.
INCLUDES:
√ Lab Test
√ Doctor's Review of Test Results
√ Doctor's Recommended Course of Action
NOTE: This test is not available to residents of New York, Rhode Island or Maryland. Any orders originating from these states will automatically be canceled. Any samples originating from these states will be discarded.
This statement has not been evaluated by the FDA. This product is not intended to diagnose, treat, cure or prevent any disease. Always consult with your professional health care provider if you are taking any medication.