Description
Combine the OAT,GPL-Tox,and IgG Food Map, Candida & Yeast Test in combination and save!!
About the Organic Acid Test (OAT)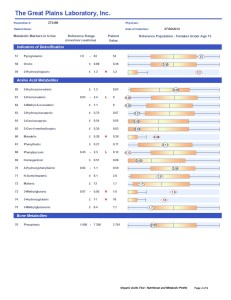 The Organic Acid Test is a comprehensive assessment for a wide variety of biomarkers related to yeast (candida) and bacteria toxicity – specifically clostridia bacteria. It also evaluates oxalate toxicity, as well as mitochondria function, and various markers for vitamin and neurotransmitter problems. The Organic Acid Test includes a section for amino acid metabolites which can detect inborn errors of metabolism. Overall, the Organic Acid Test is a foundational test that should be considered for anyone dealing with a chronic health problem. Doctors often use this test for people with autism, mental health problems, fatigue, autoimmune disorders, cancer, poor sleep, etc.
About GPL-Tox Testing:

GPL-TOX is a toxic non-metal chemical profile that screens for the presence of 172 different toxic chemicals including organophosphate pesticides, phthalates, benzene, xylene, vinyl chloride, pyrethroid insecticides, acrylamide, perchlorate, diphenyl phosphate, ethylene oxide, acrylonitrile, and more. This profile also includes Tiglyglycine (TG), a marker for mitochondrial disorders resulting from mutations of mitochondrial DNA.  These mutations can be caused by exposure to toxic chemicals, infections, inflammation, and nutritional deficiencies.
ADVANTAGES OF THE GPL-TOX PROFILE
GPL-TOX screens for 172 different environmental pollutants using 18 different metabolites, all from a single urine sample.
Uses the power of advanced mass spectrometry (MS/MS), which is necessary to detect lower levels of certain genetic, mitochondrial, and toxic chemical markers that conventional mass spectrometry often misses.
GPL-TOX also includes Tiglylglycine, a marker for mitochondrial damage, which is often seen in chronic toxic chemical exposure.

IgG Food Map, Candida & Yeast Test

This finger prick blood test is a convenient way to assess for over 190 different potential adverse food reactions. Includes a wide range of foods, common in the Western, Asian, and Mediterranean diets. There is a hemp allergy marker because it is very common now as a food source or as medical CBD.

GPL's xMAP® immunoassay with fluorescence readout has proven to be even more sensitive than ELISA tests. The IgG Food MAP test detects all food antibodies with greater precision than ELISA tests thanks to the superior technology we've developed for the test.

IgG is an immune chemical that indicates immune sensitivity to a particular food. IgG reactions can stress the immune system leading to inflammation in the body. People with multiple IgG food reactions often suffer from various digestive complaints such as bloating, gas and stool changes, i.e. constipation or loose stools. Also, headaches, , skin problems, joint discomfort, and body pain can be associated with elevated IgG reactions to food. Doctors often use this test to evaluate for food sensitivity reactions such as gluten sensitivity.

The IgG Food Map with Candida + Yeast Tests reactions to:
-Dairy
-Beans and Peas
-Fruits
-Grains
-Fish/Seafood
-Meat/Fowl
-Nuts/Seeds
-Vegetables
-Herbs/Spices
-Coffee/Tea/Cocoa

INCLUDES:

√ Lab Test
√ Doctor's Review of Test Results
√ Doctor's Recommended Course of Action

NOTE: This test is not available to residents of New York. Any orders originating from NY will automatically be canceled.

This statement has not been evaluated by the FDA. This product is not intended to diagnose, treat, cure or prevent any disease. Always consult with your professional health care provider if you are taking any medication.